The Central Florida Association for Women Lawyers is hosting its 11th annual Bar Study Scholarship.
The goal of the scholarship is to promote the CFAWL mission. The scholarship is meant to help the recipient while they study for the Florida Bar Exam. It is made possible through the generous donations of CFAWL members, friends, and CFAWL fundraising efforts.
Each year a scholarship will be awarded to a deserving full-time or part-time law student who will take the Florida Bar Exam for the first time that summer.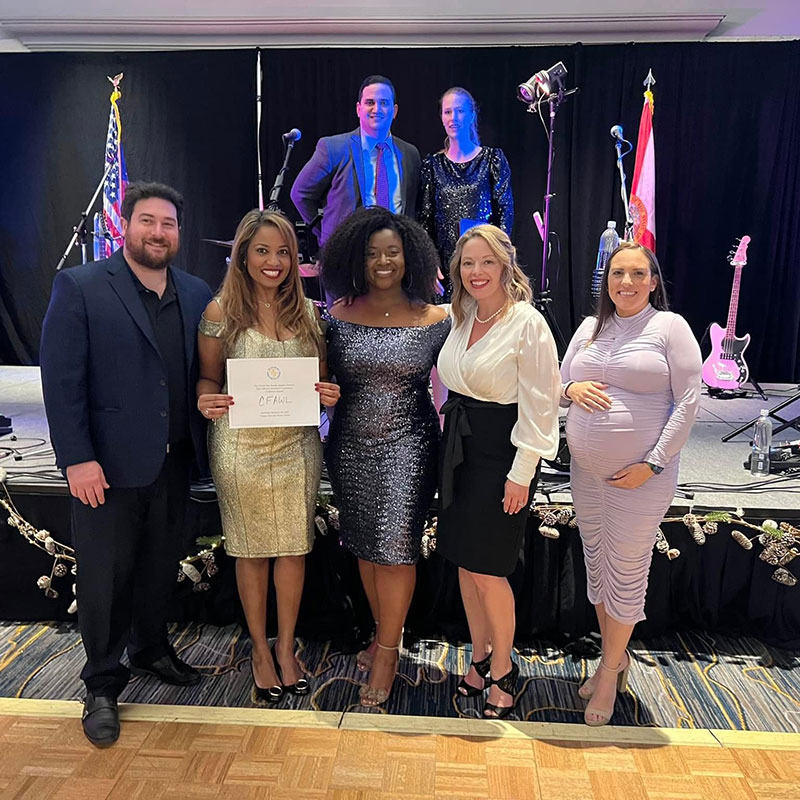 Successful applicants will have either:
Demonstrably promoted the CFAWL mission through CFAWL membership and/or volunteer work; or
Demonstrably involved themselves in pro bono work on their campus or in their local legal community.
If the student is not enrolled in a Central Florida law school but intends to return to this area or begin their career here, then they should explain what efforts/success they have had in maintaining or establishing ties to the Central Florida legal community.
Applicants for the CFAWL Scholarship must meet the following criteria:
Must be a full-time or part-time law student who will take the Florida Bar Exam for the first time the summer following the application deadline.
Although there is no cumulative GPA minimum requirement, academic achievement and excellence will be strongly considered.
Must have significant campus and community involvement and/or leadership (see above).
Award and Selection Process
So long as funding permits, the CFAWL Bar Study Scholarship consists of an award of $1,000.00. The award recipient will be invited to attend a CFAWL Luncheon and/or event in Orlando, where the recipient will be introduced. The Scholarship will be paid to the recipient after their law school graduation, generally in June.
The CFAWL Scholarship award recipient will be selected by a review committee composed of CFAWL members, which will evaluate applicants on the following criteria:
Academic achievement
Personal essay
Community service, leadership or volunteerism
One letter of recommendation
Financial need
The Committee also gets the input of the CFAWL Board in selection of the candidate.
The 2023 Application Deadline is March 10, 2023
The CFAWL Scholarship award recipient will be notified by mail of their selection.
The scholarship application can be submitted electronically or paper form. The paper version will be updated when the deadlines information is announced. If submitting via paper form, please ensure that you have enough time to meet the application deadlines.
The applicant must ensure the scholarship application is complete and that all required information and materials are submitted with the application on or before the deadline specified. Please do not leave any blanks. If an item does not apply, simply indicate same with "N/A."
Incomplete or untimely applications will not be considered.
If you have any questions or concerns about the status of your submission you may email us at cfawlscholarship2020@gmail.com